=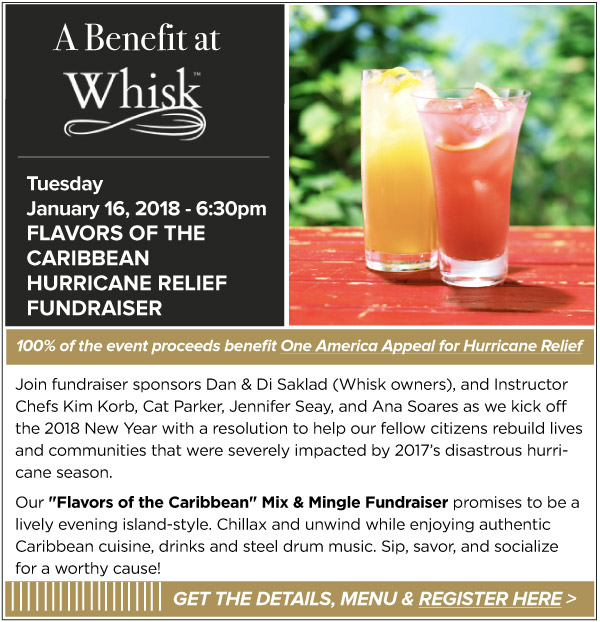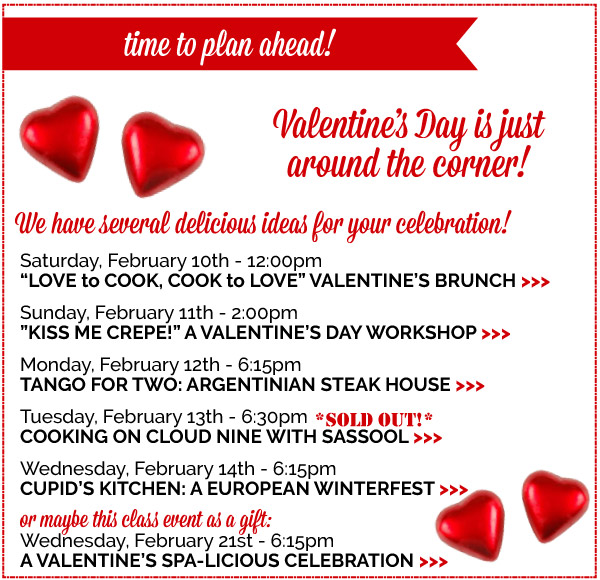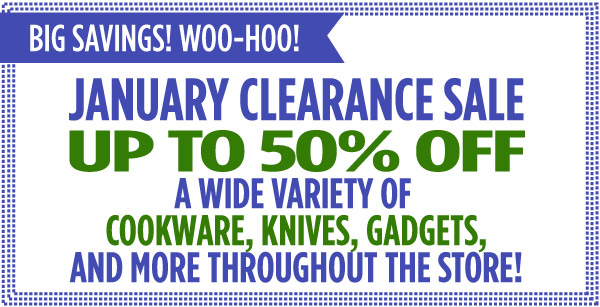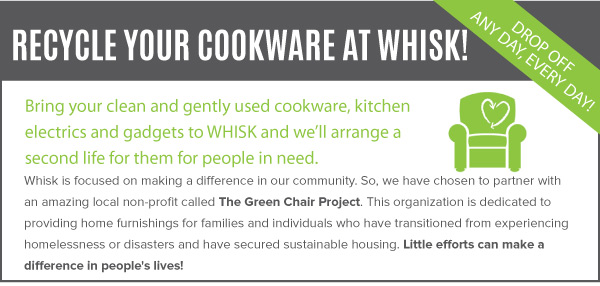 Thursday, January 11, 2018 - 6:15pm
"NEW YEAR-NEW YOU" LADIES NIGHT OUT
with Renee Ramage Burger
REGISTER HERE!
Happy, Healthy 2018! Keep those New Years' resolutions and "party on" while by being good to yourself. Renee will share her secrets for irresistable food that is clean, full of flavor, nutrient rich, and oh so satisfying. Great gift for your BFF and your gal pals!
Tuesday, January 16, 2018 - 6:30pm
FLAVORS OF THE CARIBBEAN HURRICANE RELIEF FUNDRAISER
with Kim Korb, Cat Parker, Jennifer Seay, Ana Soares, Dan Saklad, Diana Saklad
100% OF EVENT PROCEEDS BENEFIT One America Appeal for Hurricane Relief
REGISTER HERE!
Join fundraiser sponsors Dan & Di Saklad (Whisk owners), and Instructor Chefs Kim Korb, Cat Parker, Jennifer Seay, and Ana Soares as we kick off the 2018 New Year with a resolution to help our fellow citizens rebuild lives and communities that were severely impacted by 2017's disastrous hurricane season.

Our "Flavors of the Caribbean" Mix & Mingle Fundraiser promises to be a lively evening island-style. Chillax and unwind while enjoying authentic Caribbean cuisine, drinks and steel drum music. Sip, savor, and socialize for a worthy cause!
Wednesday, January 17, 2018 - 6:!5pm
BREAKFAST FOR DINNER (BRINNER)
with Ana Soares
REGISTER HERE!
It is time for some indulgent and unbelievably delicious fun! Ana will share a practical and fun set of recipes that will inspire and impress as you prepare make-ahead dishes for friends and family. So go ahead, grab a friend or two and treat yourself to breakfast for dinner. Beer, wine and mimosas included.

Thursday, February 1, 2018 - 6:15pm
LADIES NIGHT OUT: APRES SKI
with Renee Ramage Burger
REGISTER HERE!
Better than hot chocolate by the fireplace, this cozy winter meal will warm you from the inside out. Share an evening with Renee and your friends as you prepare an authentic and comforting meal featuring spinach-proscuitto chicken roulade and hot chocolate cupcakes. Come in from the cold for a delicious evening of fun, laughter, and cooking inspiration.
Friday, February 2, 2018 - 6:30pm
MARDI GRAS MADNESS
with Cherisse Byers and Cat Parker
REGISTER HERE!
We're transforming our Whisk kitchen into a festive Friday night in N'awlins! Join Cat and Cherisse as they recreate a stroll through the French Quarter with Kickin' Cajun and Creole specialities, jazz, and beads. Laissez les bons temps rouler!
Saturday, February 3, 2018 - 2:00pm
AFTERNOON TEA AT HARRODS
with Renee Ramage Burger
REGISTER HERE!
Join us with your family and friends for a traditional English Tea filled with cooking, conversation, and high tea specialties. Renee will share some of her favorite recipes that are practical enough to duplicate at home. It's going to be positively brilliant! Sign up early because seats are limited. (Ages 7 and up...including adults!)
Sunday, February 4, 2018 - 2:00pm
KIDS CLASS: MASTER CHEF PASTA CHALLENGE
with Cat Parker
REGISTER HERE!
Join us for an afternoon of fun and mess-making in the Whisk kitchen. Kids will travel to Italy with Cat where they will make hand-made pasta of different shapes and sizes. During this two hour class, students will make the dough, roll it into thin sheets with the pasta machine, cut it, cook it, and then sauce it up. Mangia! Ages 7-13. (Parents may drop off their children after signing in.)
Thursday, February 8, 2018 - 6:15pm
AUTHENTIC INDIAN FAVORITES
with Nikkat Khan
REGISTER HERE!
Learn the secrets of using Indian spices and cooking techniques to recreate your restaurant favorites at home. Get that perfect layering of Indian flavors as Nikkat guides you through an authentic menu with vibrant tastes and textures of this warm and fragrant cuisine.
Saturday, February 10, 2018 - 12:00pm
"LOVE TO COOK, COOK TO LOVE" VALENTINE'S BRUNCH
with Renee Ramage Burger
REGISTER HERE!
Plan to spend Valentine's Day with your special someone as the two of you create an indulgent and unique brunch. Sip the bubbly as Renee puts a fresh spin on beloved classics. This will make a great gift!
Saturday, February 10, 2018 - 6:30pm
LOS CABOS CANTINA
with Ana Soares
REGISTER HERE!
Whisk invites you to an authentic Mexican cantina fiesta! Enjoy the warmth of Los Cabos with its vibrant, unique, local, and fresh cuisine. Ana will keep things lively with her tips, tricks, and culinary stories. Get ready to eat, drink, laugh, and learn! Cerveza included.
Sunday, February 11, 2018 - 2:00pm
"KISS ME CREPE!" A VALENTINE'S DAY HANDS-ON WORKSHOP
with Joan Baumer
REGISTER HERE!
Take your crêpe making to another level this Valentine's Day as Joan shows you how to delight your special someone with a make-ahead meal and a show stopping twenty layer gâteau de crêpes. Learn to make foolproof batter, flip like a professional, and master a variety of folds as you load your creations with irresistable and romantic fillings. Make a date TODAY for this hands-on extravaganza.
Monday, February 12, 2018 - 6:15pm
TANGO FOR TWO: ARGENTINIAN
with Ana Soares
REGISTER HERE!
Travel to Buenos Aires with Whisk's own Ana Soares. She will share both the European and indigenous influences that have made this city a world class foodie destination. If you like vibrant and bold Argentinean style steak as well as unique wines, this dinner party is for you. Time to TANGO!
Wednesday, February 14, 2018 - 6:15pm
CUPID'S KITCHEN: A EUROPEAN WINTERFEST"
with Ana, Carrie, Jennifer and Joan
REGISTER HERE!
On Valentine's Day, travel to Europe with that special someone as you learn a thing or two from not one, but FOUR of Whisk's favorite instructors. Romance will be in the air as you are pampered with indulgent and decadent French, Italian and Swiss sparklers, appetizers, entrées and desserts. Visit the chefs' various global destination stations throughout the store where you can watch, question, and learn. Make new friends while dining, or sneak off with your sweetie to one of our romantic bistro tables for this very different Valentines evening. Wine pairings included. Great Gift!

Friday, February 16, 2018 - 6:30pm
MEAL OF FORTUNE: CHINESE NEW YEAR
with Liu, Zhong-Yuan (Wendy)
REGISTER HERE!
Travel to Beijing where you will celebrate the year of the dog with Zhong-Yuan's favorite native Chinese favorites. Learn the significance of these foods as they relate to the New Year, while getting familiar with Asian ingredients and techniques. Get ready for a fabulous and authentic Chinese Saturday night. Great gift!
Saturday, February 17, 2018 - 1:30pm
THAT'S AMORE: SWEET EXPECTATIONS!
with Carrie DiPietro
REGISTER HERE!
Join us in the Whisk kitchen for a romantic selection of classic Italian desserts. Carrie will share her techniques for creating decadent tarts and cookies that will dazzle your dolcezza (sweet tooth). Bring that someone special and create deliciousness together. GREAT VALENTINE'S DAY GIFT!
Wednesday, February 21, 2018 - 6:15pm
A VALENTINE'S SPA-LICIOUS CELEBRATION
with Kim Korb
REGISTER HERE!
Champagne, chocolate, raspberry & roses...celebrate the season of friendship while learning how to mix up a batch of DIY anti-oxidant age-defying body product. Exfoliate then luxuriate in ultra-moisturizing whipped body butter as Kim teaches you to make seasonally-inspired small plates and all natural skincare products to take home. Grab your mom, your sister, and your BFF's because it's time to eat, drink, and exfoliate! Great gift for her!
Saturday, February 24, 2018 -1:30pm
MASTERING KNIFE SKILLS: A TECHNIQUE CLASS
with Kim Korb
REGISTER HERE!
Sharpen your knife skills with Kim Korb as she teaches classic cuts, fundamentals, mechanics, maintenance, and knife safety. If you want to take your cooking to the next level, we highly recommend this class.